Pregnancy and breastfeeding are unique experiences for each woman. The consequences for the body differ depending on the mother-to-be. The bust and breasts grow significantly, with the bust growing by one to two cup sizes or more on average. Wearing the proper lingerie to accommodate your expanding curves is critical, particularly if breastfeeding. Not only does your stomach expand during pregnancy… Beginning with the first weeks until the start of milk production, your breasts will change a few days significantly after delivery. Wear the ideal kind of
plus-size lingerie
 during pregnancy How do you find and buy the right lingerie for yourself? Here are the details for you:
What is the difference between maternity
Pregnancy and breastfeeding are unique experiences for each woman. The consequences for the body differ depending on the mother-to-be. The bust and breasts grow significantly, with the bust growing by one to two cup sizes or more on average.
 Wearing the proper lingerie to accommodate your expanding curves is critical, particularly if breastfeeding.
Not only does your stomach expand during pregnancy… Beginning with the first weeks until the start of milk production, your breasts will change a few days significantly after delivery.
 Keeping up with the ideal kind of lingerie can thus be difficult.
How do you find and buy the right lingerie for yourself? Here are the details for you:
There is no difference! Breastfeeding connectivity is developed into all maternity bras.
What is the purpose of wearing a nursing bra?
Wearing a standard bra when breastfeeding is challenging since you'll have to quickly and frequently unfasten it to feed your baby. A nursing bra, as opposed to a regular bra, is specially designed to make breastfeeding more straightforward, thanks to the following:
a system of openings at the cups to entirely expose the areola;
A structure with thick, adjustable straps that support your back and breasts;
Cotton, foam, and microfibre are examples of delicate materials. Those who provide full support dry quickly and protect your sensitive and your newborn's skin.
When is the best time to buy a plus-size
You can select and purchase a nursing bra even as you are pregnant or after the baby is born.
By the eighth month of your pregnancy,
Choose a nursing bra after evaluating your size in the third trimester and adding a cup size because your breasts will swell when your milk finally comes. For example, if you're a 38B in the third trimester, get a bra in a 40C. Of course, if your current bras are getting small, you can arrange one sooner.
After giving birth, you will generally maintain the same cup size you were during your first months of pregnancy. Wait two weeks before evaluating your proper size, then purchase a second nursing bra, one size larger than usual.
What should you look for in a plus-size
Since you'll most likely need to breastfeed while out and about, your bra will be visible.
Nursing bra without wires: for optimal comfort
STELLE BREASTFEEDING MATERNITY PREGNANCY WIRELESS BRA
92% Nylon, 8% Spandex
Adjustable Shoulder Straps
Ultra-soft & seamless
sweat-wicking and comfortable
provide full coverage
removable cup pads
You can select the bra you want to wear during nursing. A non-underwired nursing bra will undoubtedly be more comfortable to wear. It's flexible and seamless, and it's incredibly comfortable.
Nursing bra with underwires: for huge busts
ELOMI MATERNITY BEAUTIFULLY ROUNDED UNDERWIRE BRA
63% Polyester, 21% Nylon Polyamide, 10% Elastane, 6% Cotton
moisture wicking
cool and dry
Plastic nursing clasp
beautifully rounded shape
comfortable fit
The best service comes from an underwired plus-size nursing bra. Underwiring adds support to the cups while reducing the weight the back performs. To support your growing tummy during pregnancy, you have to put on
plus-size underwear.
Choose styles with soft, flexible underwires that will adjust to the reshaping of your curves.
Nursing bras: for a good night's sleep
TOUCH LOOM MATERNITY WIRELESS SLEEPING BRA
58%Nylon,32%Poly,10%Spandex
no padding,
no underwire,
offers extra comfortable
super soft
Will be using a nursing bra to help make sure that your sleep is as uninterrupted as possible. A bra top is lightweight, soft, and the ultimate in comfort.
It is incredibly comfortable at night and an excellent option for a non-underwired bra during the day. It's precisely what you desire at the give up of your pregnancy.
Nursing nightgown: no sacrificing femaleness
BABY BE MINE NURSING MATERNITY LABOR-DELIVERY NIGHTGOWN
100% Cotton
Snap closure
Soft and Comfortable
Mothers looking for fashionable lingerie may also go to bed wearing and feeling good in a nursing nightie that is both feminine and functional.
What is the best opening system for
plus-size maternity lingerie?
First, choose a nursing bra with good alignment and stretchy cups for pleasant breastfeeding support. This design is ideal for unrivaled support for fuller busts: it completely encases the breasts, keeping them stable and supported without suppressing them.
Regarding the opening system:
Because of the clip system on the straps at the tops of the breasts, you can fasten and unfasten the cups with one hand, creating breastfeeding relaxed and modest.
A bra with three or four hook positions at the back is ideal because it allows you to adjust to your changing bust size.
Getting your nursing bras to fit:
Set 1: As a general rule, add one cup size and one back size to your pre-pregnancy bra size. Sure, if you usually wear a 32C, start with a 34D.
On the tightest set-up, such bras must also feel safe and comfortable, with sufficient space to adjust the fit as you expand.
Set 2:
Start taking your pregnancy bra size and add one cup size while subtracting one back size. So, if you're nearing the end of your pregnancy and wearing a 34D, try a 32DD for nursing.
All of these will feel safe even on the loosest setting, after delivering, you need to
measure your bra size
for a perfect bra fitting
How do you take care of your maternity
lingerie for larger busts?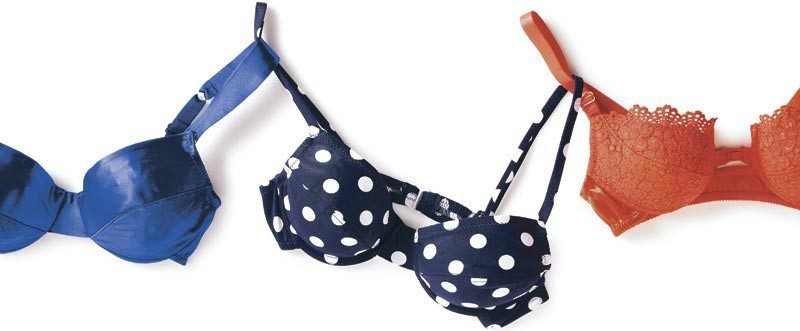 During breastfeeding, your baby will frequently come into contact with your bra. It must remain soft to avoid irritating your baby's and susceptible skin. Ideally:
Hand-wash your maternity lingerie. If you can't avoid using the machine, try putting your lingerie in a laundry net to help shield the fastenings.
Wash your undergarment at a maximum temperature of 30°C with hypoallergenic disinfectant for delicate fabrics.
Tumble dry or iron on low heat to avoid damaging the fabric fibers.
You should care for your maternity underwear in the same way you would your regular lingerie, if not more.